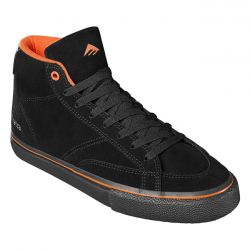 EMERICA X BILTWELL OMEN HIGH SNEAKERS
EU38 # US6
731,50 DKK
Varenummer: 974812
Super seje og lækre sneakers fra EMERICA X BILTWELL.
Emerica er et kendt brand fra Skater kulturen, med deres fede design og kvalitet. De har indgået samarbejde med Biltwell.
EMERICA X BILTWELL
Emerica, the brand that is well known in the skate community for its footwear, has joined forces with Biltwell to create an exclusive collaboration that highlights the shared stoke of skateboarding and riding. They designed some cool stuff like hoodies, longsleeves and sneakers. The Omen High suede sneakers have a G6 foam insole, the pour-in G6 cushioning uses liquid polyurethane poured directly into the rubber cupsole to create a foam layer with incredibly high impact resistance and perfect bonding, and double wrapped foxing. Features custom textured toe bumper and artwork of OJ. Wheels Custom and Biltwell Custom.