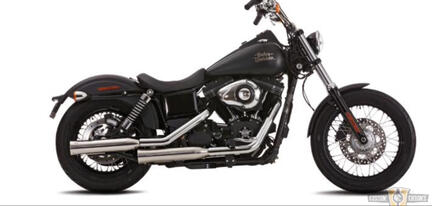 Double Groove Slip-On Muffler 2 in 2
STANLESS STEEL
5.650,00 DKK
Varenummer: 900316 CC
VÆLG STANLESS STEEL ELLER BLACK SATIN, OG PRISEN FREMGÅR.
EURO 4 Godkendt
06-16 Dyna
Fitment Note : The use of exhausts without dB-killer is not allowed in public traffic.
*Attention! Articles marked with the TÜV-sign do not necessarily cover all H-D models and years. Before ordering please check if your bike is listed in the TÜV-certificate. Please contact your CCE dealer or our sales support. In case of any complaints we do not grant any warranty and will not withdraw those parts.


Fitments:
Dyna Fat Bob CVO Screamin Eagle FXDFSE 2009
Dyna Fat Bob CVO Screamin Eagle FXDFSE2 2010
Dyna Fat Bob FXDF 2008
Dyna Fat Bob FXDF 2009
Dyna Fat Bob FXDF 2010
Dyna Fat Bob FXDF 2011
Dyna Fat Bob FXDF 2012
Dyna Fat Bob FXDF 2014
Dyna Fat Bob FXDF 2015
Dyna Fat Bob FXDF 2016
Dyna Fat Bob FXDF103 2013
Dyna Glide Low Rider FXDL 2009
Dyna Glide Low Rider FXDLI 2006
Dyna Low Rider FXDL 2007
Dyna Low Rider FXDL 2008
Dyna Low Rider FXDL 2010
Dyna Low Rider FXDL 2014
Dyna Low Rider FXDL 2015
Dyna Low Rider FXDL 2016
Dyna Low Rider S FXDLS 2016
Dyna Street Bob FXDB 2007
Dyna Street Bob FXDB 2008
Dyna Street Bob FXDB 2009
Dyna Street Bob FXDB 2010
Dyna Street Bob FXDB 2011
Dyna Street Bob FXDB 2012
Dyna Street Bob FXDB 2013
Dyna Street Bob FXDB 2014
Dyna Street Bob FXDB 2015
Dyna Street Bob FXDB 2016
Dyna Street Bob FXDBI 2006
Dyna Street Bob Special Edition FXDBB 2014
Dyna Street Bob Special FXDBC 2016
Dyna Super Glide 35th Anniversary Edition FXD35 2006
Dyna Super Glide Custom 110th Anniversary FXDC ANV 2013
Dyna Super Glide Custom FXDC 2007
Dyna Super Glide Custom FXDC 2008
Dyna Super Glide Custom FXDC 2009
Dyna Super Glide Custom FXDC 2010
Dyna Super Glide Custom FXDC 2011
Dyna Super Glide Custom FXDC 2012
Dyna Super Glide Custom FXDC 2013
Dyna Super Glide Custom FXDC 2014
Dyna Super Glide Custom FXDC 2015
Dyna Super Glide Custom FXDCI 2006
Dyna Super Glide CVO Screamin Eagle FXDSE 2007
Dyna Super Glide CVO Screamin Eagle FXDSE2 2008
Dyna Super Glide FXD 2007
Dyna Super Glide FXD 2010
Dyna Super Glide FXDI 2006
Dyna Switchback FLD 2012
Dyna Switchback FLD 2014
Dyna Switchback FLD 2015
Dyna Switchback FLD 2016
Dyna Switchback FLD103 2013
Dyna Wide Glide 105TH ANV FXDWG 2008
Dyna Wide Glide FXDWG 2007
Dyna Wide Glide FXDWG 2010
Dyna Wide Glide FXDWG 2011
Dyna Wide Glide FXDWG 2012
Dyna Wide Glide FXDWG 2014
Dyna Wide Glide FXDWG 2015
Dyna Wide Glide FXDWG 2016
Dyna Wide Glide FXDWG103 2013
Dyna Wide Glide FXDWGI 2006