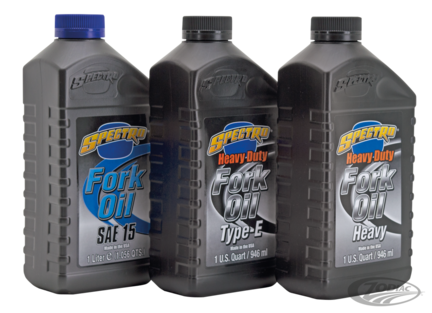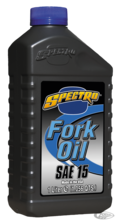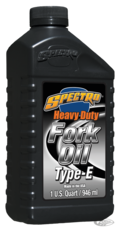 SPECTRO FORK OIL
Fra 193,00 DKK
VÆLG MELLEM 3 TYPER. VI ANBEFALER TYPE E- Light.
Spectro fork oil Extra Light SAE 15W
Spectro fork oil Type-E Light SAE 20W20, for normal road use
Spectro fork oil Extra Heavy Duty SAE 40W, for normal road & racing use



Spectro's fork oils are premium quality and have a superior viscosity index to minimize viscosity loss due to heat build-up during riding even under the most severe conditions. This ensures superb performance over a wide range of operating temperatures. Available in Extra Light SAE 15W, Type-E SAE 20W20 (light) for normal road use and an extra Heavy Duty SAE 40 quality. The Heavy Duty quality meets or exceeds all Original Manufacturers specifications. Spectro fork oil dramatically reduce the sticking friction at the moment of direction change, provide superior seal conditioning and protection against rust and oxidation, resist thinning and fading, contents antifoaming additives and extend components life when used according to the owners manual. Sold in 1 quart cans (0.946L.) or 12 quarts per case.